THE DIFFERENCES BETWEEN SURF HOUSE AND SURF CAMP
You can not stop thinking of sun, beach and sea? That sounds like you are ready for holidays! So come and visit us at Surf House As Furnas:
https://www.surfhouseasfurnas.com/
Our Surf House offers you the opportunity for your dream holiday: in a well-kept and modern accommodation with a spacious garden, close to the beach. We always have nice, interesting and athletic guests, and offer you a select and home-cooked food with regional products. During the day you can surf on one of the surrounding beaches, do yoga in our garden, learn Spanish, and much more …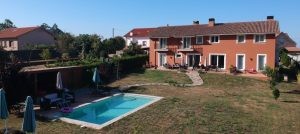 BUT WAIT! Why is it called Surf House and not Surf Camp? Where is the difference?
In the following text, we'll show you five big differences between a Surf House and a Surf Camp, to understand what makes our Surf House special.
The key question is: What kind of surf holidays do YOU want? And what is important to YOU in your surf trip?
THE 5 DIFFERENCES BETWEEN
SURF HOUSE AND SURF CAMP
Personal attention
Surf Camps usually have a capacity of 40 or more people, while a Surf House has on average of only 10 to 20. While a Surf Camp specializes in a general and affordable surf experience, our Surf House places great emphasis on a higher standard in surf lessons and all additional services.
The surf lessons, for example, take place in smaller groups. This allows, professionally trained surf instructors to respond individually to their students, which has a significant impact on the learning success.
At Surf House As Furnas we have surf lessons for all levels (beginner, intermediate and advanced). We aspire to offer surf courses at a high level in small groups. An instructor teaches a group of a maximum of seven surf students. If you already have surf experience, let us know, as this is important information for us. We want to help you to pick up where you left off last time.
Our surf instructors are professionally qualified and have many years of experience in teaching. There are four hours of surf lessons per day, divided into two sessions. Our surf material is new. For our advanced surf guests we have both hardboards and longboards.
An additional option for surfing lessons is to analyze your technique using a photo analysis.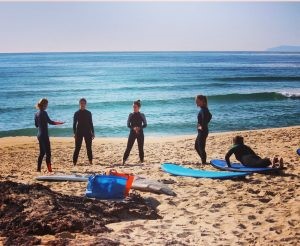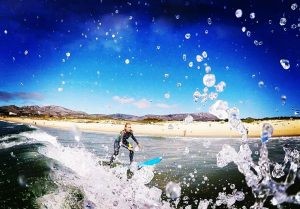 Also with the food, in a Surf House, you can pay more attention on the wishes and problems of each guest. Let us know if you are a vegetarian or a vegan, or do not tolerate certain ingredients or substances. The quality and versatility of the food in a Surf House is much higher than in a Surf Camp. This is partly because it makes a difference, of course, whether you cook for 60 or only for 12 people.
Surfing is exhausting and makes us hungry. That's why at Surfhouse As Furnas we value a tasty, balanced and healthy diet. There is something for everyone at our breakfast buffet. Be it sweet or hearty. A rich breakfast gives you the necessary strength and energy for a long day full of surfing.
At dinner we are always keen to cook varied and creative. In addition to meat and poultry, fish and seafood, we also offer vegetarian and vegan, as well as gluten and lactose-free food. It is particularly important to us that the products are fresh and from the region.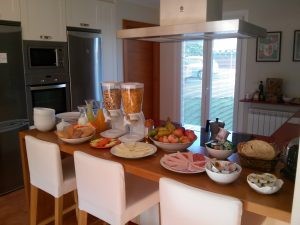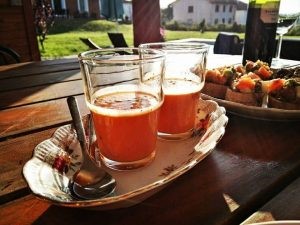 The relationship between the guest and the staff in a Surf House is usually tighter and more familiar.
It is easier to find a contact person. Good communication between the guest and the staff is very important to us!
Privacy
Most rooms in a Surf Camp are shared rooms, often with bunk beds, and the bathrooms usually need to be shared. In a Surf House there are mainly rooms with single or double beds and a private bathroom. This gives you more room for yourself and also a personal retreat whenever you want to rest for a while.
Our Surf House offers six double rooms; five rooms with one double bed and one room with two single beds. This gives us a capacity of a maximum of twelve guests. The rooms are spacious, each room has its own private bathroom and a small balcony with direct access to the garden.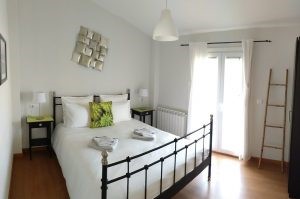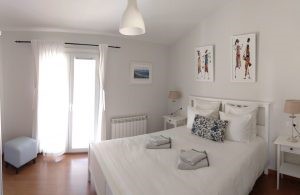 Comfort
A Surf House has a high quality and technically mature equipment. The rooms are comfortable and the furnishing is pleasant and in a very good and new condition. The communal kitchen as well as the various lounges are fully equipped with modern electronic and technical equipment. We attach great importance to absolutely clean rooms and bathrooms, as well as clean and well-kept common areas. For us, these are the essential amenities of a Surf House.
Our comfortable beds are a requirement for an optimal recovery after an intensive day of surfing. A spacious and cozy living room with two large leather sofas, a spacious dining room overlooking the garden, a modern and well-equipped kitchen with large refrigerators, a laundry room and an extra bathroom are available to all guests for shared use. Throughout the house there is Wifi, DVDs, various books and tourist information about restaurants, surf beaches, attractions, etc. In the garden we have for some time now a private pool.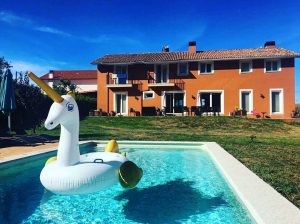 The common areas are cleaned every day and he rooms every second day. We change the towels on demand.
Fun and Relaxation
A Surf Camp is usually visited by younger people, who on the one hand just want to try out surfing, but on the other hand want to be entertained in the evening. Guests of a Surf Camp prefer a cheaper "all inclusive package", to the comfort of a Surf House.
Surf House guests, on the other hand, appreciate the quality of the accommodation, healthy and regional food and a professional surfing class that responds to individual needs. They are ready to pay more for quality. Recreation and interesting activities are at the top of their list.
Our guests are mainly between 25 and 40 years old. They value a good and balanced diet, enjoy doing sports and often chill out together with a glass of wine or beer in the evening.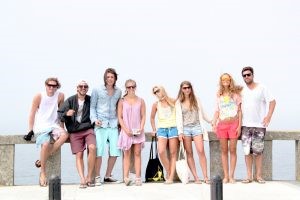 As already mentioned in point 1, the maximum occupancy in a Surf Camp is much bigger than of a Surf House. In a Surf Camp, relatively more people are having the same space compared to a Surf House. You normally share the rooms, baths and common areas. A Surf House offers opportunities to retreat, relax and unwind – or to hang out with other guests in the various common areas.
The Surf house As Furnas has a floor space of 350m2 and a garden of almost 3.000m2. The spacious distribution, as well as the design of the garden offer each guest a lot of space. A sunbathing terrace in front, and a rather shady terrace behind the house are ideal places to spend a comfortably time in community.
The garden and its green space are perfect for playing football and volleyball. The pool area with sun loungers is perfect for sunbathing and relaxing. At the other end of the garden are some trees, where you can find cozy hammocks and a slackline. The trees provide soothing shade for our regular yoga classes.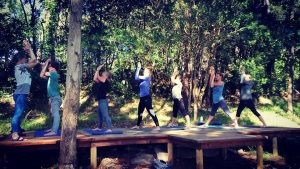 Flexibility

Many Surf Camps mostly sell so-called "packages", which include everything from accommodation, courses to airport transportation and boarding. The daily routine in a Surf Camp follows a tight schedule. Arrival and departure, the number of course hours and the evening program are usually given.
Organizing a smaller group is much easier. As a result, a Surf House is very adaptable and can respond individually to the needs of the guests. The guest has more flexibility and fewer obligations. In a Surf House you can usually book the individual courses and the number of days, as well as the dinner separately (and also spontaneously) to the accommodation. Often you can also sign up for individual courses on site.
In our Surf House we try to be as flexible as possible. We do not offer packages unless you want it. Our guests should do what they feel like doing. Arrival and departure days are variable.
You are welcome to book extra lessons on site, as well as change the level of the surf course. If you do not feel like doing a surf course and you prefer to try surfing on your own, you can also borrow the necessary surfing equipment and use our transport to the beach.
The yoga classes and the Spanish lessons can either be booked in advance of your trip, or you can spontaneously decide on the spot.
Depending on demand, our Hatha Vinyasa yoga class takes place once or twice a day in our beautiful and quiet "yoga studio" under the trees in the garden. Yoga is an ideal balance to surfing: the muscles are simultaneously stretched, relaxed and strengthened.
The increased flexibility and body tension help you to improve your surfing. The yoga classes take place exclusively in small groups. Again, we care a lot about that our yoga teacher can respond to each course participant individually and take into account whose limitations. On request one can also book one-to-one lessons.
A good hour per day you have the opportunity to learn Spanish or improve your Spanish skills. The Spanish lessons should be especially fun and serve as a little change from the surf and yoga classes. The focus is on conversation. The language course is entirely based on the interests and the level of the students.
In addition to the aforementioned courses, we also offer a variety of massages (sports, relax and Thai massage), horseback riding and free bike rental.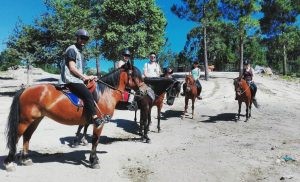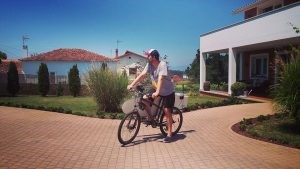 As for the dinner, we usually ask around lunchtime, who would like to be cooked in the evening, and who has other plans. You are always welcome to use our high-quality equipped kitchen, or our barbecue areas.