Learn to surf! Surf courses for beginners and advanced!
Learn how to surf on your surf vacation.
Surfing is one of the most beautiful and coolest outdoor sports today. Unfortunately, learn surfing and finding the right surf course are not that easy!
On my surf trips and from stories of my surf guests, I'm always amazed how bad and above all useless many surf lessons are.
Our own surf courses always take place in reduced groups, so that we can respond to our students individually and recognize their weaknesses, to guarantee a quick learning success in a nice atmosphere.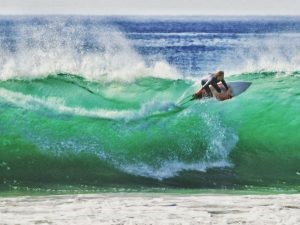 IMPORTANT!! 1 surf instructor: Max. 7 surfers
I myself am a surf instructor, trained by the International Surfing Association (ISA) AND the Spanish surf federation – Surflevel 1, and have years of experience teaching surfing.
The ideal surf course
The most important things for maximum success
• Surf material: The right surfboard
A good and on you matched surf equipment is the basic requirement for a successful surf course. As a beginner, we always recommend a softboard. First, you protect yourself and other surfers from injury, and secondly, the sense of achievement is much greater, due to the buoyancy of a soft top.
Should you already be a little more advanced; you have your board under control, you can even recognize and paddle the wave on your own, your take – off is good and you've already surfed your first green waves, then you can easily switch to a hard surfboard.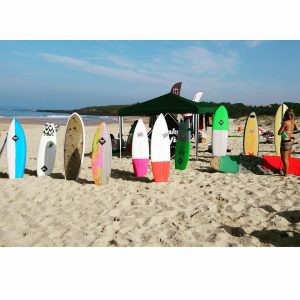 If you are looking for your own surfboard; then have a look at:
http://www.stinkytofusurf.com/
Our local shaper is happy to help you.
• Communication with your surf teacher
If you are not a complete beginner, then it is very important that your instructor knows what your current surfing level is. Tell him about your last surf course, what you already know, where your weaknesses are and what you would like to achieve in this course. Your surf instructor can work with you appropriately and you can continue at the surf level you left off.
If something is unclear, then ask. That's why the surf instructor is there for;
to help you!!.
• Surf spot: The best conditions
The more you practice, the faster you learn. That's why you should catch as many waves as possible, so that you can practice the individual steps of the surfing techniques as often as possible.
Especially Galicia, a region in northern Spain, offers ideal conditions for beginners as well as for advanced surfers. The wave consistency is very high from mid-May to the end of October and the numerous beach breaks with their almost empty lineups guarantee you a multitude of waves.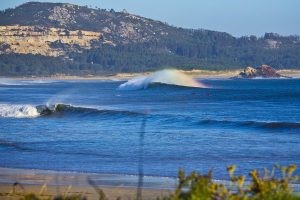 A good surf instructor always chooses the best alternative. Decisive criteria are: how many people are in the water, how strong the current is and how big and powerful the waves are. One thing is to be said: surfing is an outdoor nature sport and even the best surf instructor has no influence on that.
• Surf theory
The surf theory is an important part of the surf lessons. From the proper handling of the surf material, how waves are created and the effects of high and low tide, to the rules of behavior and priority in the water, are fundamental issues of any good surf course.
An absolute must is the topic of safety and currents. Follow the instructions of the surf teacher and try to be attentive yourself, so that sooner or later you can surf on your own.
• Surf lessons: useful and step by step
After a full body warm-up, and BEVOR you go into the water, the surf instructor will explain you on what you have to pay attention and what you should do. It is important that the individual surfing techniques, such as the take – off, the turtle – role, the duck – dive, paddling at an angle, the turns, etc. … are explained meaningful and step by step, so that you understand everything well and can implement them later in the water.
Furthermore, your surf instructor should also deal with you individually, practice again the individual steps on the beach and correct you to avoid early mistakes.
• Feedback: Surf Photo Analytics
A good surf instructor does not have to and also can not see every wave of you. But he/ she should always be able to tell you what you are doing wrong and give tips on how to do it better.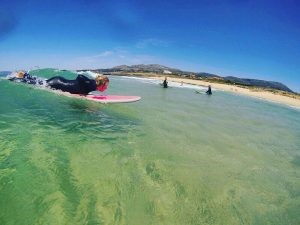 One of the most effective learning methods in surfing is the photo analysis. The surf instructor will analyze each of your waves together with you: you can see yourself surfing while your surf instructor explains your mistakes. That makes it a lot easier for you to understand what and how you have to do it different.
If you got interested now in surfing with me and my team in Galicia – Northern Spain, then have a look here and find out more:
https://www.surfhouseasfurnas.com/