The dynamics of our classes
Our surf courses are exclusively held in small groups. This allows us to respond individually to each participant's training level and needs. In this way a faster learning process in a friendly atmosphere is guaranteed. We offer high standard surf courses for all levels: advanced, intermediate and beginners. If you already have practice in surfing, this is an important information for us. We want to help you to pick up where you've stopped on your last surf holiday.
Our 6 day (18 h) Intensive Surf Course Package is created for surfers on all levels of experience and is perfect for guests who want to devote themselves fully to surfing.
The course includes the following:
• Theory (1h)
Introduction: waves, wave formation, white water, tides and currents *
Equipment explanation *
Safety rules *
Correct position on the board, paddling technique and take-off *
Surfboard types **
Rules of conduct and priority **
Spot check, spot selection and currents **
Setting of personal goals and creation of an individual training plan **
• Material – surfboard and wetsuit incl.
Test center
Daily advice adapted to the current conditions
• Spot guiding – transport incl.
Professional spot guiding to more than 10 different surf spots
Daily check of surf forecasts
Excellent spot knowledge, evaluation and selection of spots
• Surf lessons (14h)
8 surf sessions
Sliding exercises on the board, paddling, getting up in white water and first attempts in green waves *
The easiest and safest way into the line-up, the channel **
Description of the line-up, the peak and correct positioning on the board **
Wave assessment and selection **
The right timing to paddle, to navigate and getting up in green waves
Basic maneuvers (f.e. to build up speed, simple turns, bottom turns etc.) **
Optimization of surf skills, movement theory and learning new surf maneuvers ***
• Photo analysis (1h)
(Tip: bring your own USB stick with you.)
• Out-of-water training (2h)
Additionally to surfing, we offer exercises on land that help to improve your surf technique (with fitball, bosu balancec. ball etc.)
* Beginner
** Intermediate
*** Advanced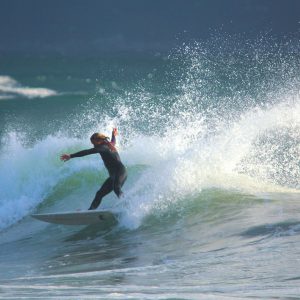 You can book additional surf lessons on site or in advance any time, as well as always change the level of the surf course. We adapt the remaining surfing days and the surfing program to your individual needs.
The course is structured as follows:
Course content

1st part

2nd part

Day 1

Theory

Long surf session

Day 2

Long surf session

Functional training

Day 3

Surfing

Surfing

Day 4

Long surf session

Photo analysis

Day 5

Long surf session

Functional training

Day 6

Surfing

Surfing
The exact order of the individual course days may change as we always adapt our lessons to the daily surf forecast.