Custom made Surfboards!! Your own surfboard!!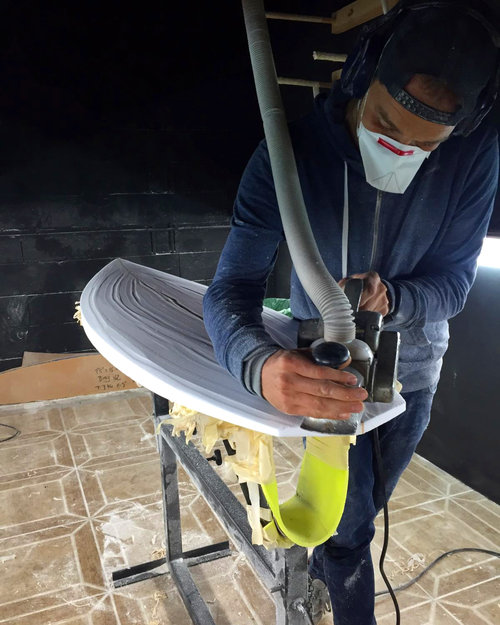 Surfing
Surfing with the softboard works quite well.
Your paddling technique is good and you are more or less physically fit. You
can make it into the lineup and you can also paddle diagonally. You do the take
off in one jump and not over the knee and you can go right and left along the
wave. You also have the necessary know-how when and which wave you should paddle and you are aware about the dangers regarding currents etc. Yes?
Yes!!
Then it's definitely time for your first surfboard.
Stinky Tofu Surf – Surfboards made in Europe
But this is not so easy nowadays, because the selection is endless and you are
also no expert on surfboards.
That's why we would like to help you to find the perfect surfboard and introduce you to the Shaper of Stinky Tofu Surfboards:
His name is Alex Cancio, comes from Galicia in northern Spain and is shaping surfboards since 2010 thanks to the help of Bruce Smith and Neil Bird (Mundaka Surfboards).
"The goal in Stinky Tofu Surfboards is to produce the best surfboards both high performance and retroboards; Always focused on the latest trends in design and materials as well as tradition and creativity. "
In Stinky Tofu Surfboards a variety of surfboards are made: longboards, minimalibus, evolution surfboards, single and twin finboards, retro surfboards, fishshapes, and three and four fin shortboards. On the homepage of Stinky Tofu Surfboards you will find different models from the aforementioned Surfboards and always new models come.
http://www.stinkytofusurf.com/
Regarding to the surfboard core, you can choose between a polyurethane (PU)
and an expanded polystyrene rigid foam (EPS) – also known as polystyrene.
EPS surfboards have the advantage that they are lighter and more resilient and have more buoyancy. Major brands such as Slater Designs, Firewire Surfboards and Haydenshapes work exclusively with EPS.
The Surfboards from Stinky Tofu Surf are also very versatile. There are Airbrush, Tinted Resin and Posca Designs, as well as self designed logos or photos.
To get in touch with Alex, you can either write it to facebook https://es- es.facebook.com/StinkyTofuSurf/ or send an email to info@stinkytofusurf.com.
He speaks Spanish and English and answers you within one day. The average time for a custom surfboard is about one month. The boards are shipped to
Europe.
Contact:
Stinky Tofu Surf
http://www.stinkytofusurf.com/
https://es-es.facebook.com/StinkyTofuSurf/
info@stinkytofusurf.com
+34 634 690 455